From a polaroid camera and a DIY background to high end technically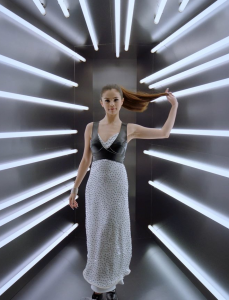 advanced systems like the stobe photo booth used at the Met Gala awards, photo booths are the centre piece for all kinds of events from weddings and parties to business functions and marketing strategies. 
The BBC article "The Fall and Rise of the Photobooth" explains how the growth of the event photo  business has seen photo booth hire businesses double each year.
The popularity of the photo booth is largely due to its ever evolving form. From passport booths in the nineties to camera phones in the noughties, then portable photo booths arrived at events and the ability to receive an instant print was reborn. Now with social media options and experiences like green screen, flip books, slow motion, animated GIFS, augmented reality, light painting and much much more the photo booth evolution is still very much in full flow.
But what does this mean for you? The amount of choice now available can be a little confusing, even overwhelming when combined with all the other details needing your attention when planning an event. How do you choose a provider for your event and how do you choose between all the services on offer?
Firstly, you need to consider who is going to be using the service? 
If you are looking for a photo booth for a family party or wedding when a good portion of the guests may be older relatives then the ability to share animated gifs across social media platforms may be a bit wasted.  Similarly if you know your guests may be a little… um… inebriated when using the photo booth don't present them with hundreds of different green screen background options as they'll quickly loose interest in the complexity of the process. Are you guests largely extroverts or introverts? This will determine whether or not you want an open studio style set up such as a Tower Booth or Mirror Booth or an enclosed photo booth with a seat and the magic of closing the curtain.
Then there is the venue, what space do you have to work with?
If you've got the space for an enclosed photo booth or large studio set up with elaborate back drop fantastic but what about smaller venues, some outdoor spaces or a boat party for example. Here is a great example of where our Smiley Print service works brilliantly. Its like a photo booth party in your pocket – using your smart phone you can print out your selfies (and other photos) via a wifi signal transmitted but the print station. 
Lastly and most importantly, what are you looking to achieve?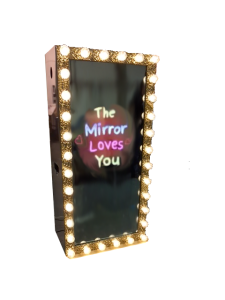 If you are a business looking to create a memorable experience for employees or customers or to promote a product, service or venue with experiential marketing – the humble photo booth is extremely versatile. If you are looking for online presence then look no further than Hashtag printing service or a photo booth with social media terminal.  A Flip book is a great alternative to the standard photo booth service giving your guests a fully immersive interactive experience with a tangible keep sake AND the ability to share the digital animated GIF online and if you want to add a touch or Hollywood glamour a Mirror Booth works brilliantly in a retail environment or black tie event.
Now that you know the service most ideally suited to your event you need to find the perfect photo booth provider… 
The most important attributes to look for are experience and quality assurance. Things go wrong. That is a fact of like but at your event there is only one chance to get it right so choose wisely.  Choose a company that you know will be there and be on time. Make sure they use studio quality equipment that produce flattering images and quality prints that won't smudge or fade over time and check that they carry spares and have support and contingencies in place should anything go wrong.
The personal touch. Whether a private event or corporate marketing you want your photo booth company to provide users with a seamless and enjoyable experience so that it is remembered for all the right reasons. Find out as much as you can about the end to end experience so that you aren't battling with poor communication and a scruffy, grump photo booth attendant during your hire.