On a somewhat dreary Monday afternoon, Lee and I were busy getting glam, ready to attend a very special event hosted by Louis Tomlinson of One Direction.
The event was a Cinderella Ball in aid of the charity Believe in Magic.  Louis had contacted us a couple of weeks before requesting a photo booth for the event and inviting us to attend as his guests as a thank you for the previous work we have done for the charity.
Believe in Magic is a very special charity providing support and once in a lifetime experiences for terminally and seriously ill children.  This unique charity was founded by Meg Bhari, a teenager with a brain tumour that has seen her undergo more than 24 operations and leaves her in constant pain.  Meg and her mum Jean, run the charity together with little administrative support.  While coping with Meg's own challenges they selflessly bring joy and much needed support to hundreds of sick children and their families.  Having seen first hand how hard they work for others they are truly magnificent and have deservedly gained a lot of high profile fans of the charity including Jessie J, Simon Cowell, Pixie Lott and of course the members of One Direction.
The event itself was an elaborate affair set in the Natural History Museum.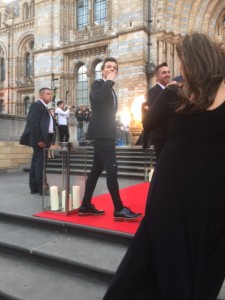 The red carpet provided a dramatic entrance and we ascended the steps along side Louis and Liam from One Direction to the sound of screaming fans and the flash of the paparazzi camera bulbs – not an experience I'll forget in a hurry!
Once inside we were shown to our  exquisitely decorated table in a room that looked as if it had been taken straight  from the pages of a fairytale, with the iconic dinosaur at its centre. The children of the charity made a huge  entrance down the central staircase just like real Princes and Princesses to the warm and loving admiration of the  audience.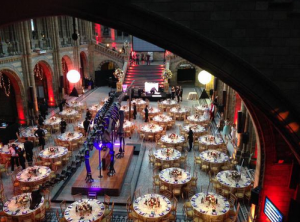 After a delightful meal and flowing champagne the charity auction began with experiences such as a dinner party with Heston Blumenthal, sporting experiences and donations from the absent members of One Direction – Harry Styles' favourite t-shirt and Niall's designed and signed guitar.  Bidding several thousand pounds on items themselves the auction finished by Louis bidding £10,000 for Liam to have his face painted.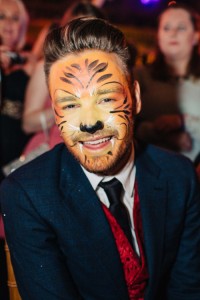 There were also opportunities to raise further money for the charity with 'lucky dip' ring boxes being purchased at £100 each with the chance to find a £5000 ring inside and the opportunity to sponsor a child and their family to have a Disney World Holiday.
No ball would be complete without entertainment and the Cinderella Ball certainly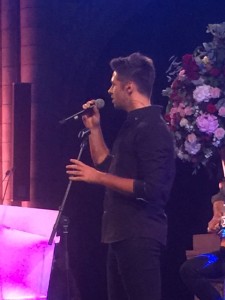 did not disappoint with table magic from the awe-inspiring Dynamo, acoustic vocal from X factor winner Ben Haenow and requests being played by Radio 1 DJ Matt Edmondson of which 'Let it Go' was an inevitable favourite with the Princesses.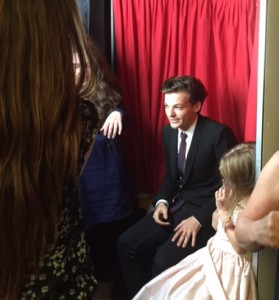 The photo booth was a big hit throughout the evening with the Princesses and Princes and their families. It was such a delight to see the children enjoying the photo booth and for them to have their memories captured with friends, family and carers. As gracious as                                                           ever the celebrities were only to happy to take part in the fun and join their fans in the photo booth.
Our Smiley Booth Attendant also had a fabulous time, being a big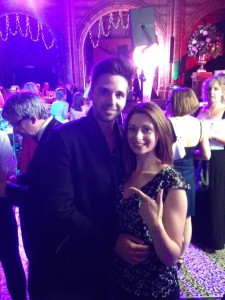 Ben Haenow fan she was grinning from ear to ear!
All in all the evening was a huge success and raised several million for the charity.  It also provided the children and their families with a magical, one in a lifetime experience and raised the profile of this very worthy charity.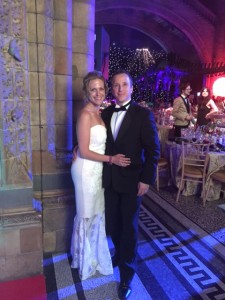 If you'd like to find out more about Believe in Magic please visit:
www.believeinmagic.co.uk     facebook.com/Believeinmagicx      @believeinmagicx